Pantone Color of the Year: 2015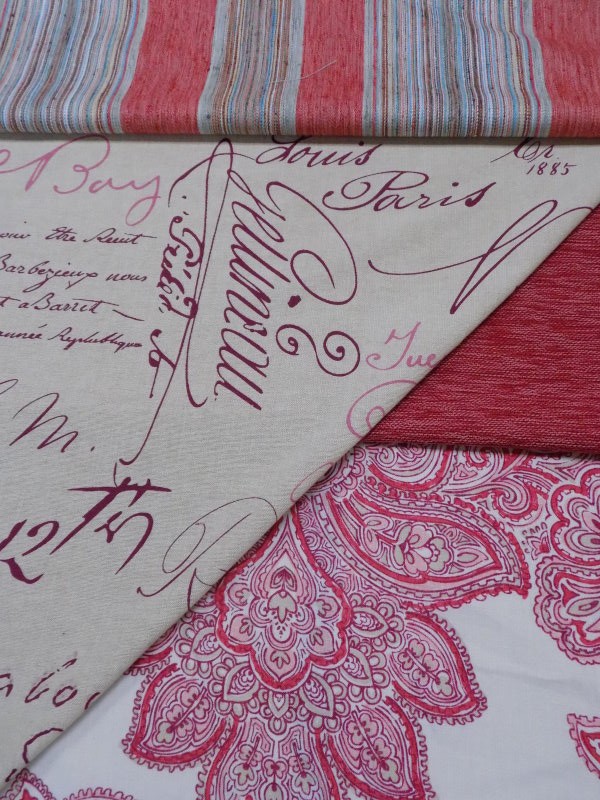 ---
 Marsala
---
Pantone is the color company for all your needs, and they have named Marsala the 2015 Color of the Year. Inspiration for this color comes from Fashion Week runways, shimmering hues only found in red wines and raspberries, even the drama of a red lipstick re-imagined. This is the color to meet all your needs. Marsala gives you warmth, without sacrificing versatility. Complimenting Marsala is easy with Pantone's Color Pairings, illustrating all the great ways to mix and match the Color of the Year.
 We've put together a few collections to highlight the bold elegance of Marsala. Enjoy!
---
When building around one color, use some bright accents! Try and play with warm and cool shades in different hues for less or more contrast. This collection highlights the Marsala tones in this floral pattern. We popped a bright blue geometric pattern and a solid teal green to give it a little drama. The harlequin faux silk is a great neutral to help balance and tone down the whole look.

---
The reason why Marsala is so versatile lays in its impact. Even the smallest hints of the warm red shade will lend itself to a calming palette. Here we have a floral printed on an off white background, lending itself to many different colors or accents. To showcase the bold reds and purples, we've paired with with green and yellow.

---
How do you incorporate Marsala into your favorite trend? Check out this collect with a beautiful floral to float some color into a fairly neutral palette. Grey is one of the best colors to pair with, try a solid purple with grey undertones. The grey and cream stripe also helps lend a casual elegance to this entire look.

---
If Pantone paints and colors are not accessible to you – fear not! We've put together a small collection of Behr paint colors found at your local Home Depot. Search for your nearest store here.