How To Master Holiday Place Settings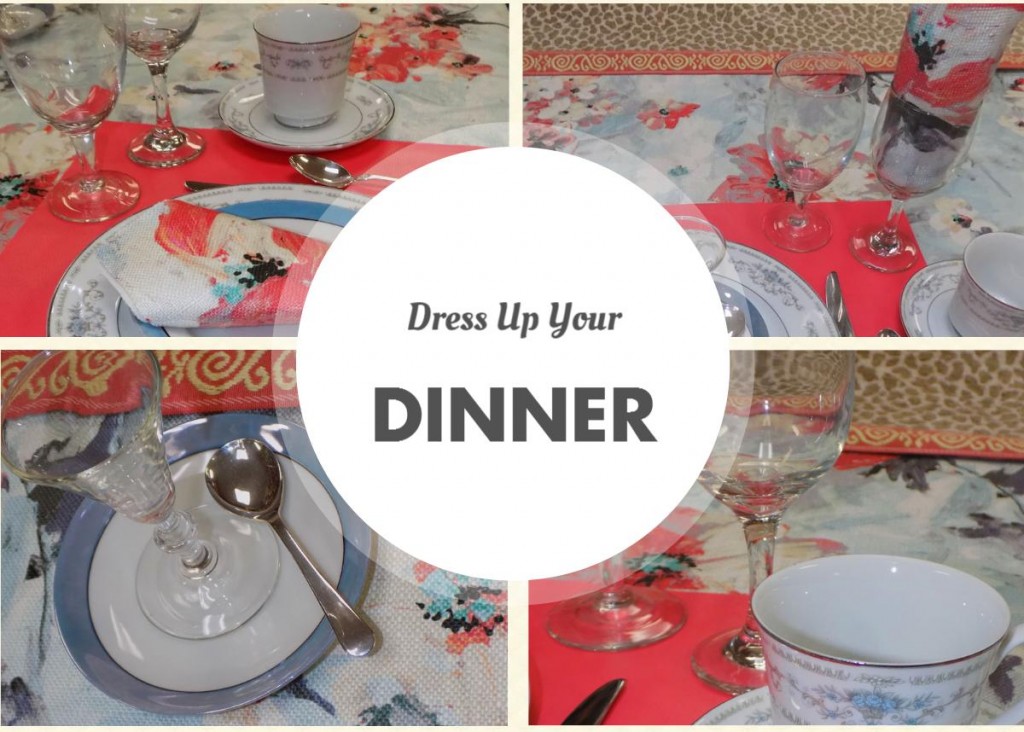 Thanksgiving is a chance to bring tradition and innovation together. Impress the In-Laws while making your social media friends envious of your beautiful holiday place setting! Even if your holidays are full of children, pets, or just general chaos – add a touch of elegance with a fully set table. Don't have a full set of china? Don't worry! We've researched a few different place settings for casual or formal tables. Mix and match your pieces and have fun with it!
Paper and plastic can wait for leftovers, make this year a feast to remember.
---
Informal Versus Formal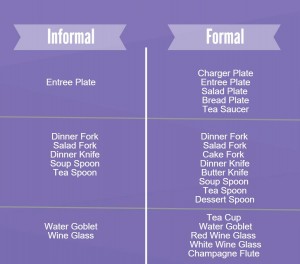 When setting a table for an informal gathering you will be using significantly fewer dishes and pieces of silverware. You can make even the most simple settings elegant with proper placement and personal details.
Plates, silverware, and drinking glasses have the same rules – work your way from the smallest pieces to the larger pieces as the courses progress! This means your salad plate should be nested on top of your entree plate, and the salad fork would be set furthest from the plate. Similarly with your water goblet and wine glass, they should be placed according to when they'll be used. Water goblets should be placed from the beginning of the course, with wine served based on guests preferences or the menu selections.
With an informal setting you can have more freedom to share serving dishes, so it works well for family-style dinners. If you're having a buffet or even a catered event, the formal setting is much more appropriate, as unnecessary dishes and silverware should be removed at the end of each course. Some formal settings may not require all of the pieces and dishes listed in the above comparison chart. Dessert, coffee, or tea could be served after dinner in a separate location! And although you want your guests to have options, it would be unlikely that you would need a red and white wine glass for the same setting.
We gathered a ton of information about place settings on our Pinterest page, check it out! And as always, Martha Stewart is also an amazing source for information about table setting.
---
Customize the Experience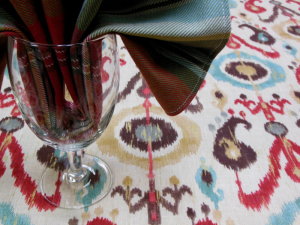 There are so many creative and easy ways to add custom pieces to your holiday decor. Use beloved family linens or start from scratch! Tablecloths add an instant touch of elegance, but why stop there? A table runner or centerpiece is an easy way to add a new pattern or small detailing to your table. Something a lot of people skip on is the place mat, but take advantage of the holiday festivities to set each place with care. Cloth napkins are yet another way to go from drab to fab. You can buy solid cloth napkins, but making your own isn't hard at all, and it gives your decor a personal touch. Try out some of our favorite napkin folds for dinner settings!
If you want a more dramatic statement to freshen up dinner this year, try recovering your dining room chairs. This is one of the easiest projects to start with, anyone can do it! You'll need a staple gun and some Fabri-Tac binding glue. Our fabrics are 54″ wide, therefore 3/4 yard would cover two chair bottoms. This is a rough estimate, but enough to get you started. Create an account at LotsOFabric.com to keep track of your favorite pieces on your Wishlist (instructions here). Figure out how you want to mix and match your holiday patterns and what you could live with all year round!
---
A Rustic Setting
Bringing a minimalist approach to lodge style, this place setting is more formal. A solid metallic silver for the table cloth brings a sense of elegance, while the animal print shown on point is a statement piece. Layering table cloths like this helps unify simplistic components of a table setting. Light, linen napkins give a touch of texture and pattern to this collection but linen is not the best for origami napkin folds. Stick with simple!
A Feminine Setting
Show off! Go on with your girly self! We've put together a fresh and fun collection of fabrics perfect for an informal, feminine place setting. Classic and versatile, we've used a watercolor floral for the table cloth and napkins. This pattern highlights blues and pinks but has dark greys and creams to bring some depth to the palette. While you can use this beautiful print throughout the year, the cheetah pattern table runner might be something to break out only for bragging rights. The place mat is a bit of fun – made out of pink vinyl to match the flowers in the table cloth.
A Modern Setting
This setting is perfect for all types of dining and families! Clean and simple with bright accents, this collection of fabrics would work well year round not just during the holiday season. We've shown a simple and versatile aqua blue for the table cloth. This cool shade is elegant yet edgy, matching almost any palette or style. Try vinyl in unexpected places – like a table runner! Vinyl accents, or even vinyl covered stools and chairs, can be wiped off if you have messy eaters. The place mat and the cloth napkins are the pop of color and pattern for this setting. You can easily switch these small pieces out for different occasions to change the colors or styles. Keep this setting modern by mixing cool shades like aqua blue with warm shades like coral and orange.
---
---