Inspire, Create, Finish, and Share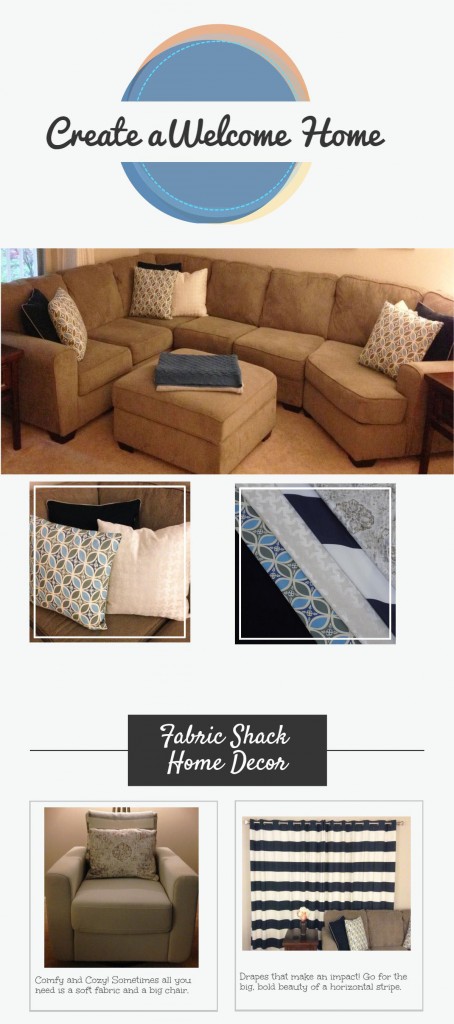 ---
From start to finish, Fabric Shack Home Decor and LotsOFabric.com are here to help you find the pieces that speak to your projects. Sometimes it's hard to visualize how a 15 yard bolt of fabric becomes your new sectional sofa. That's where we come in – we love to showcase and promote finished looks. Touch and feel, design and create, and then SHARE!
---
Browse Our Story Boards
We've created groups and collections to make the design process easy as possible. Who needs to hire an interior designer – you can do this! Browse our Story Boards on LotsOFabric or come down to Waynesville and create your own grouping. Regardless of how much space you do or do not have, choose your favorite pieces and create the space you want to see. Putting together colors and patterns is the best place to start, tackle construction questions when you've found the pieces you love.
Create Your Wishlist
Play dress up! Mix-n-Match any piece on LotsOFabric.com by adding them to your Wishlist. While browsing our extensive collection, simply click the heart icon in the upper right hand corner of the product's featured image. This adds the piece to your Wishlist, click the heart icon again to browse your Wishlist. From here you can compare each piece on the Interactive Design Wall. Move the virtual swatches around to match pattern, scale, and color – you can design your interiors without ever leaving the space! Sign up for your account here, and start your dream home collection today.
Order Your Favorite Swatches
We want to make sure that you are confident in your choices. A no return policy means once it has left our doors it cannot come back. To curb any confusion or pressure, we will happily provide you with swatches to check out in your rooms, throw in the wash, and even let your pets go at it. Lighting can change the colors in your fabrics, so be certain you like how it looks in your room. You can order swatches online and have them shipped to your doorstep! Select 5 swatches for  only $5 – WHOA, what a deal! Also, our storefront is open seven days a week and we will swatch from anything in the entire store at no charge.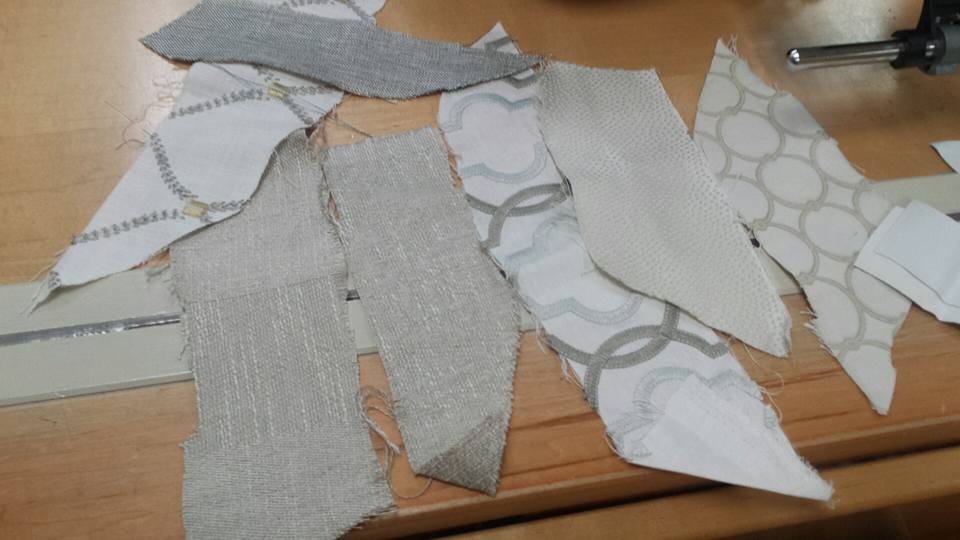 Find A Workroom
A great workroom makes all the difference. Don't settle for Grandma's antique sewing machine and outdated techniques. If you need exceptional work at an affordable price, we can help. From meticulous perfectionists to commercial grade uniformity, we ONLY recommend professionals who can turn out an amazing product. Contact us at our storefront to get a list of workrooms that excel in drapery, upholstery, and even slipcovers in the southeastern Ohio area.
Share on Social Media
Where do you go for inspiration? Reaching new audiences and helping our best clients with design ideas and DIY help. We know how to keep up with the Jones – keep a current eye on trends and styles. Stay fresh and have fun with your projects, then share with your friend, family, and US! Being able to visualize how a bolt of 15 yards of velvet becomes a fully upholstered couch can be hard to imagine. We share before and after pictures on Facebook, Google+, Pinterest, and Instagram! One you're finished with your project we would love to see your handy work. Send us a picture through your favorite social media platform, or shoot us an email at Info@LotsOFabric.com and we'll show off your finished drapery treatments, upholstered furniture, slipcovers, and custom bedding!


Add a simple #FABSHACKFAVES to your Pinterest and Instagram posts.
---